Description
Tall Tails Dream Chaser Classic Crate Mats are made with you and your pup in mind. These beds are made with reinforced with oxford fabric that offers a cooler sleep surface. The bottom side has a plush surface for dogs who prefer a warmer sleeping spot. Machine wash and dry for simple cleanup.

Key Features:
Keeps your pup comfy and supported

Reversible design
Machine wash and dry
Available in 5 sizes
Dimensions:
Small: 18x24
Medium: 19x20
Large: 23x36
XLarge: 28x42
XXLarge: 36x50
Size Recommendation: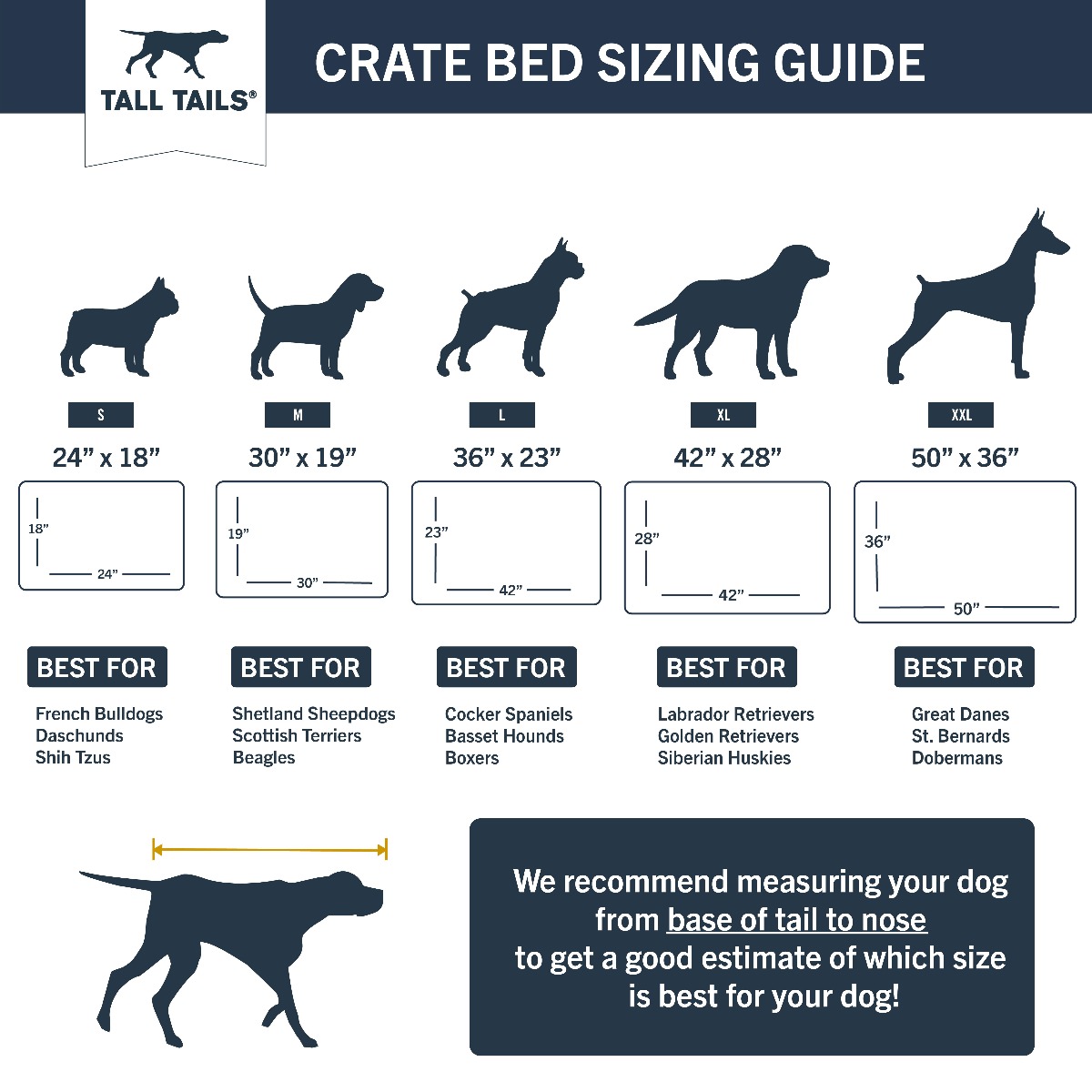 Why Choose WhiteDogBone For Your Pet Needs?
At WhiteDogBone, our mission is two-fold; we aim to provide owners with high-quality foods that promote a healthy and fulfilling life for their pet while also creating a business environment where family values are championed. Our family purchased WhiteDogBone when Chuck (current owner) lost his job at 51 and struggled to compete in the job market. As we evaluated our future, we decided to take the biggest risk of our lives and become business owners. Since purchasing WhiteDogBone in 1994 the business has grown from simply being a stand at shows to an online pet store. Known as the store that is 'loved by families and trusted by champions', our customer service and superior brand offerings make our small business second to none. In addition, our unique focus on family gives our team the freedom to adjust to their personal needs. From school activities to caring for loved ones, our furry and non-furry families always come first.
Looking for a food that fits the life stage, breed and needs of your pet? We can help! Need recommendations on a low calorie training treat? Reach out to our team. Have questions about shipping or placing an order? We are just a phone call away. 1-800-682-9671
Payment & Security
Your payment information is processed securely. We do not store credit card details nor have access to your credit card information.